Comments Off

on Good&Co: Culture Fit Jobs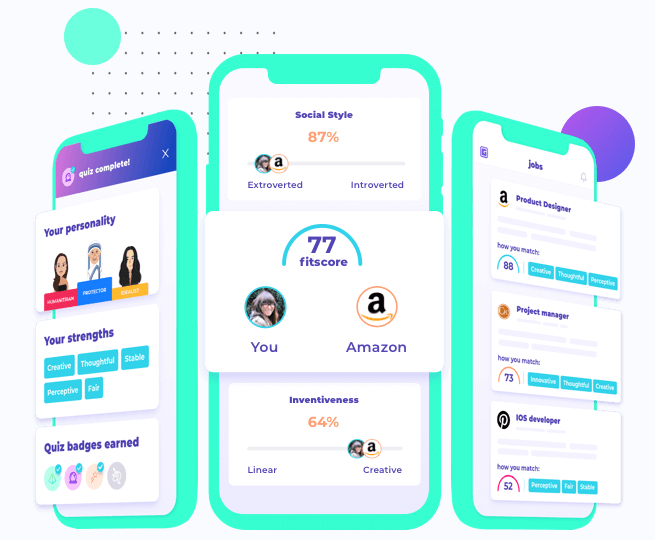 Good&Co: Culture Fit Jobs is an innovative psychological app geared at gaining deep understanding of your professional personality and how it matches up with companies! Based on Myers Briggs Personality Test (MBTI), it asks several sets of easy yet engaging questions to help characterize your personality. Furthermore, you can see how well you gel with other top companies and even browse jobs. Good&Co App is available for download on both Google Play Store and App Store.
Good.Co is brilliant! Had I not mentioned it, you would not know you're essentially taking a personality test – more so geared towards discovering your professional life. Though it offers some insight into personal as well.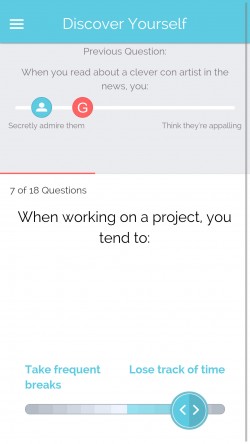 You start by taking an initial quiz of 18 questions to grasp your character. Answering questions is easy – simply slide the toggle towards the direction of which two answers you feel best answers and slide to the strength of agreement. Unfortunately, sometimes the slider accepts your answer while sliding causing a slightly inaccurate answer- and you cannot go back to previous questions to correct them. As you answer quizzes the app starts to learn more and can change your archetype before quiz completion.
If you connect your professional social channels such as LinkedIn it can better assess signals based on your career performance thus far. After completing a quiz section you're awarded karma points. Although it becomes annoying that you're prompted to connect with friends immediately after quiz completion, when you do, you can easily see your work compatibility with them. Alternatively, you can answer questions about friends as well.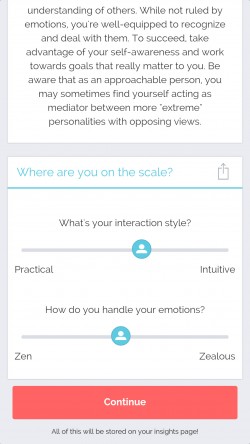 Insights within Good.co are very helpful. Not only are there passages to inform you with advice but there are infographics sliders visually demonstrating as well. I value that it has perfect synergy with careers. Meaning, there is a Companies feature to see how well your personality type gels with a company's mojo. Furthermore, there is a resource to browse jobs and apply online with the company. Lastly, there is an Explore feature which houses notifications, recent activity and articles.
The app offers great insights for yourself and the user interface is aesthetically beautiful, however, the user experience is terrible. Overall it's very buggy- freezes at times, sluggish, high demand connection issues and just erratic. I sincerely hope this can be corrected because it's brilliant… issues aside.
Although the user experience is more beta than prime time… Good.co it honestly worth downloading and braving the issues described because the insights and assessments are valuable. Taking the questionnaires do not make you feel like you're going to see a shrink but are easy and engaging. Furthermore, it offers direct company culture compatibility options and lists available jobs for seekers.